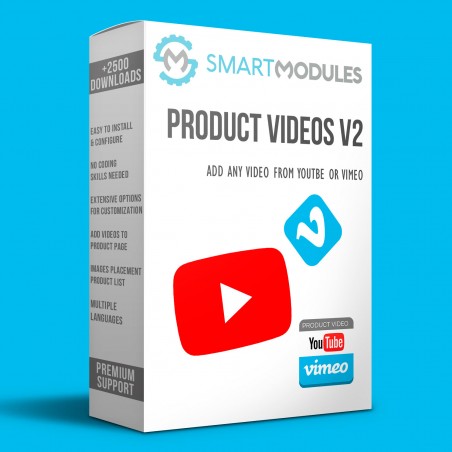  
Product Videos - YouTube, Vimeo...
The Most Complete and flexible Video Product Module, multi-video & multi-language ready. Add videos from Youtube or Vimeo.
               Excellent installation and configuration support.
License URL
Enter the URL where the module will be Used to link the license If you're going to use the module in a development site put here the development URL and once you move to production contact us to update the license URL.
With this module you can to add videos to your products through the product edit page.
The perfected Product Video Module can offer you a more complete and flexible solution to integrate videos with Prestashop (in the product or product list views). With our module you can choose between 5 placements where you can show YouTube and Vimeo videos
- Product Images
- Product Sidebars (between the "short description" and the "add to cart" button)
- Product Footer
- Product Tabs
- Product Lists (Homepage, Categories, Search...)
Exclusive placements for 1.7 versions
Perfect for almost every site.
What's new?
Configuration Page.
These features have been added:
- A tabbed menu for faster module navigation
- Customized options for Vimeo
- Import / Export Features
- More adaptation options, like support for vertical product thumbnails
Videos on Product Listing
- Live video preview
- Button to show videos as a Pop-Up
-Highly customizable. More than 140 possible combinations
- 5 additional settings to customize the function of videos in the product listing
- Copy videos: You can copy videos from other products, and use those for similar or duplicated products.
- Add multiples languages to your videos: Copy the video URL and select the languages to add.
- Delete product videos
Product sidebars. Now with more available options like, displaying an embed or a thumbnail list, show a title above the video, format it...
Why should I use videos to promote my product?
Videos give a much more realistic view of your product to customers. This will increase your conversion rate, as well as customer confidence in your web shop.
FEATURES:
• Show videos on your product page
• Show Videos in the Image Holder
• Flexibility
• Adaptability (Now it's easier to adapt to non-standard Prestashop themes)
• Automatic thumbnail creation and image integration
• Sortable videos
• Multilanguage
• Multivideo
• Multiple placements possible (up to 4 at the same time)
• Responsive
• No coding required
• Works with YouTube and Vimeo videos
• Excellent customer Support (almost 5 stars!)
CUSTOMERS:
Customers will see your product videos perfectly integrated with your shop, making it more likely to they will buy something from you.
INSTALLATION:
Go to Modules > Add New Module. Choose the zip and hit install.
Now activate the module and go to the configuration page. Here you can easily set the general settings of the module and fit these to your needs.
Add videos:
Go to products -> Edit a product -> Product Video Tab
Select one of these three options:
• Copy other videos
• Add a video to all/some languages
• Add a video for each individual language
Save and you're done.
Go to the module configuration page and select the import / export. Now you can export videos.
Use the generated CSV file to add as many videos as you want. If there is any error during the import you will be notified.
If you are using a custom theme and the video doesn't show, please contact us and we will help you to customize it.
https://addons.prestashop.com
RECOMMENDATIONS
If you wish to use the images placement and you don't see the videos is because the advanced parameters of the module needs to be configured.
If that's the case, please contact us, and we will do it for you.
OTHER:
If you are using another provider instead of Vimeo or YouTube, please contact us!
Excellent and Fast Installation and Configuration Support
Fast Support from Monday to Friday (08:00 - 15:30)
Data sheet
Compatibility

1.5.x - 1.7.x

Demo Front-Office

https://1.6.smart-modules.com/en/

Demo Back-Office

https://1.6.smart-modules.com/adminsm16

BO User

demo@demo.com

BO Password

demodemo

Languages

gb, fr, es, it, pt, nl, de, ru, pl, no, co, mx, cl, cz

Version

3.1.3