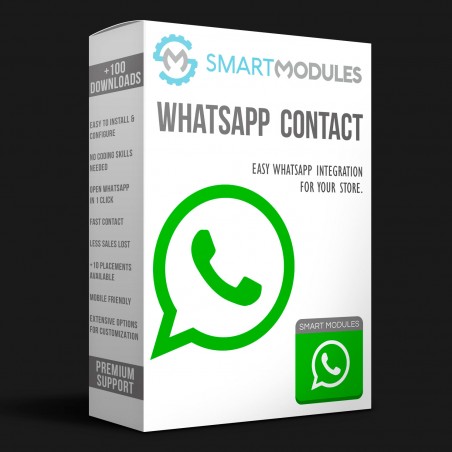  
Whatsapp contact
New link to app! Your customers can contact you now via WhatsApp with a single click. Add a WhatsApp contact information box to your Store.
          -- Fast support on installation and Configuration --
License URL
Enter the URL where the module will be Used to link the license If you're going to use the module in a development site put here the development URL and once you move to production contact us to update the license URL.
This way, your customers can easily contact you, in case of a question, and you increase consumer confidence. This will mean more conversions for you.
With WhatsApp Contact you can create WhatsAppcontact information for and links to your shop. You will find more than 15 available placements: from general to strategic placements, like at the address registration or the order process. At all of those placements you can add independent text messages like "Do you have a question?", or "Contact us via…".
This way, if a customer has a question, he can easily contact you. Increasing their trust towards your shop.
But that's not all. Starting a conversation may result difficult and that's why we created the prefilled messages feature. Once the customer opens WhatsApp he will find messages already written like "Hello, I have a doubt regarding…". To make this feature even better we have added some variables to the messages like the product name, category…
There are 7 different possible prefilled messages, depending on where the customer is located: search, category, product, order, login, address and CMS. Each placement has its own variables.
For mobile devices you can also create a floating WhatsApp contact link so the customer will always have it at hand.
New in 1.4.0:
-The WhatsApp API is here! Now customers can open WhatsApp directly with a single click.
- Prefilled fields to make it customers even easier to contact you.
- Floating WhatsApp link for mobile devices
Get total control of where and how to show your WhatsApp contact info. Add text to encourage customers or a prefilled message so your customers don't even have to think when writing.
You want to see how it works? Go to our demo by clicking on the blue link below the module images.
FEATURES
• Individual messages can be created in each placement
• 7 Prefilled messages with live variables
• Floating WhatsApp button for mobile devices. Always at hand
• Increase your response times
• Help doubting visitors to become customers
• Decrease your abandoned carts
• Fast support for customers who are having difficulties or questions
BENEFITS
Customers can quickly and easily contact you in case they need to
INSTALLATION
• Upload the module and install it
• Enter your phone number and prefix as you would like to display it on the page
• Select the placements where you want the WhatsApp info to be displayed
• Add text to the WhatsApp contact info (optional)
• Create a few prefilled messages so customers can easily contact you
• Save and clear the cache!
RECOMMENDATIONS
Do you have suggestions that will help us improve this module, like new placements or functionalities, please contact us? We very much appreciate your feedback and comments.
OTHER
Support
You can contact us anytime via the "Contact Developer" link. You can find the link at the right side or at the bottom of the page
Fast Support on installation and configuration (Monday to Friday from 08:00 to 15:00 GMT+1)
Data sheet
Compatibility

1.5.x - 1.7.x

Demo Front-Office

https://1.6.smart-modules.com/en/

Demo Back-Office

https://1.6.smart-modules.com/adminsm16

BO User

demo@demo.com

BO Password

demodemo

Languages

gb, fr, es, it, pt, nl, de, ru, pl, no, co, mx, cl, cz

Version

1.4.8