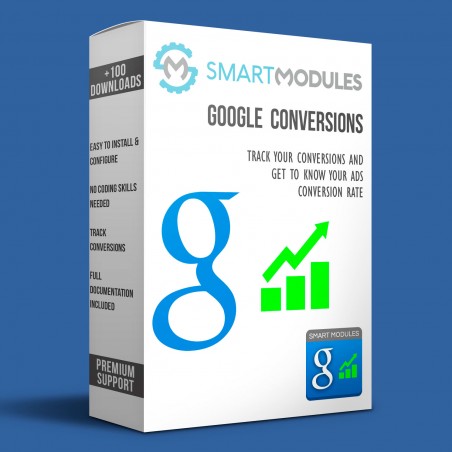  
Google Adwords Conversion Tracking
Track all your conversions (sales) created with Google Adwords; increase sales and get a better ROI. Easy 2-minute installation (instructions included). Watch the demo video.
License URL
Enter the URL where the module will be Used to link the license If you're going to use the module in a development site put here the development URL and once you move to production contact us to update the license URL.
It's essential to be able to control how you spend your money on ads.
The Google Adwords Conversion Tracking module lets you know which ads convert the most, optimizing your daily spending and increasing your conversions.
Detailed instructions for new users are included (on how to create a conversion on the Google Adwords page).
You just need to copy and paste Google's code (No further actions required)
Quick module configuration support. Do you have a question? Contact us!
With the quality and the guarantee of Smart Modules
FEATURES
- Just copy and paste the code from Google
- Use Google Tag Manager to debug
INSTALLATION
• Go to Google Adwords and create a conversion
• Paste the code into the box
You can start tracking your conversions with Google Adwords
RECOMMENDATIONS
We recommend you to disable these features in Advanced Parameters > Performance
• Move JS to footer
• Compress inline JavaScript in HTML
OTHER
Support:
Fast Support on installation and configuration
Monday to Friday from 08:00 to 15:00 GMT+1
If you have any doubt be free to contact us through the link (on the right side of this page)
Ratings:
Please rate us and help other customers
Data sheet
Compatibility

1.5.x - 1.7.x

Demo Front-Office

https://1.6.smart-modules.com/en/

Demo Back-Office

https://1.6.smart-modules.com/adminsm16

BO User

demo@demo.com

BO Password

demodemo

Languages

gb, fr, es, it, pt, nl, de, ru, pl, no, co, mx, cl, cz

Version

1.5.6