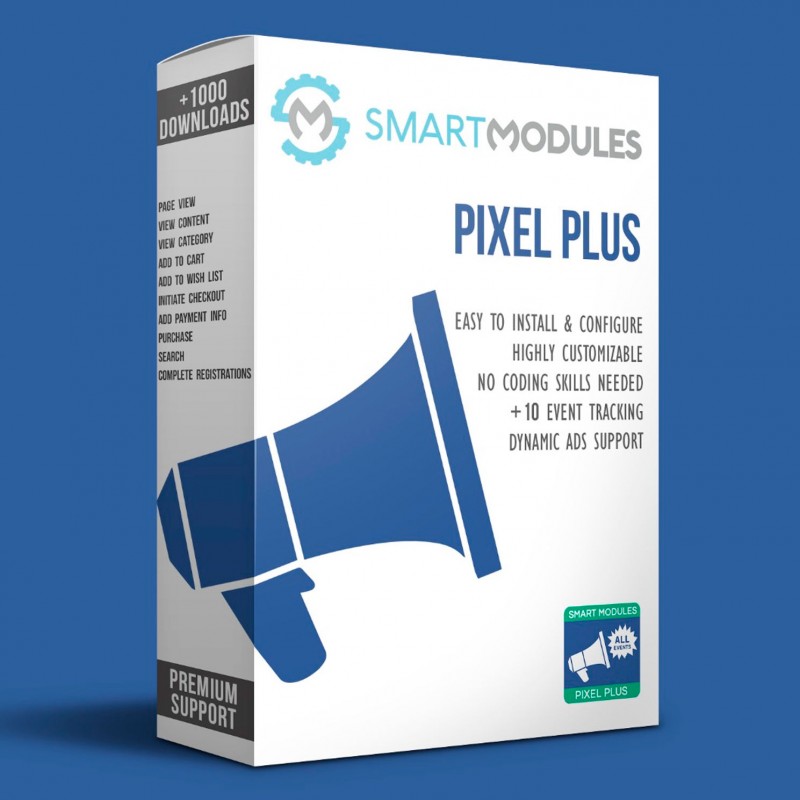  
Pixel Plus: All Conversion Events Tracking + CA
Just for Facebook. The Ultimate Conversion Tracking Module. All event tracking (checkouts, registrations, keypages...), Custom Audiences and Dynamic Product Ads. All-in-one!
                         -- Fast support on install and config --
License URL
Enter the URL where the module will be Used to link the license If you're going to use the module in a development site put here the development URL and once you move to production contact us to update the license URL.
Payment 100% secure with PayPal or wire transfer

Free support on install and configure the module

Free updates during one year
Get the control over the Facebook Ads. The Pixel Plus is designed to optimize Facebook Ads and increase ROI.
The Pixel Plus it's the evolution of our Conversion Pixel Tracking + Custom Audiences Module (https://addons.prestashop.com/en/product.php?id_product=16499)
Track All events
With this module you can track almost all new events for the Facebook's Pixel.
• ViewContent ✔
• AddToCart ✔
• AddToWishlist ✔
• InitiateCheckout ✔
• AddPaymentInfo ✔
• Purchase ✔
• CompleteRegistration ✔
• DPA (Dynamic Product Ads) ✔
• Keypages: Track index, contact or any CMS pages ✔
Easy to configure: Now you just need to activate / deactivate the features you want to track.
It's not just about tracking conversions, it's about knowing what do customers with your spent money.
Dynamic Product Ads feature
One of the most requested and anticipated Features. A full set of options to adapt the pixel output to match any Facebook compatible Product Feed.
Test the Pixels
Do a test run from the BO. Why? Because Facebook displays uggly messages until it finds some activity on the pixel so this way you can make sure you have it well configured.
Custom Audiences
The Custom Audience Features, lets you create Audiences and Lookalike Audiences either from your visitors or customers.
FEATURES:
• Easy to Use and Install
• Just Copy and Paste the Facebook's ID
• Custom audiences automatically created
• Track 8 kind of events (checkouts, registrations,add to cart, add to wishlist...)
• Track 3 kind of keypages (CMS / Index / Contact)
• Create multiple keypages pixels
• Works with any theme
• Currency Automatic detection
• Track your Landing pages
• Support for Dynamic Product Ads DPA
• Support for multiple DPA catalogues (useful for multilang sites)
BENEFITS:
More relevant and individualized ads, showing them only the best performing ads.
INSTALLATION:
• 1 Go to Modules > Add new Module
• 2 Choose facebookconversiontrackingplus.zip
• 3 Cilck Upload
• 4 Activate the module and go to configuration page
• 5 Open a new tab in your browser and go to https://www.facebook.com/ads/manager/
   • 5.1 Go to Tools > Pixels
   • 5.2 On the right you'll find your Pixel ID
   • 5.3 Copy the ID
• 6 Paste de ID inside the field in the configuration page
• 7 Select the options you want to track
• 8 Add Keypages to track (if you wish)
You're ready to track conversions and create custom audiences!
RECOMMENDATIONS:
Feed generation Module
We do recommend our Product Feed generation module to create the Products Catalogue. You can have a look here:
https://addons.prestashop.com/en/product.php?id_product=24239
Where I can see the event results on my ads?
When you're seeing the ads statistics on the right you will find the button "Columns". Click there and then go to select columns... Once you open the dialog box scroll down until you find the Pixel events. Select the ones you want to show and save.
If you want to always have those columns on click "Columns" again and then set default.
Install the Pixel Helper for Google Chrome to check the Pixels
https://chrome.google.com/webstore/detail/fb-pixel-helper/fdgfkebogiimcoedlicjlajpkdmockpc
Use it to test the pixels!
OTHER:
DPA and Facebook Product Catalogue
To use the DPA feature you should have a Product Catalogue on Facebook, you can do that manually or by uploading a Feed. This module will not generate that Feed.
Check our feed generation module for Facebook here:
https://addons.prestashop.com/en/product.php?id_product=24239
Support
Fast Support on installation and configuration (Monday to Friday from 08:00 to 16:00 GMT+1)
Contact us through the link in the right side of this page
Ratings
Please rate us and help other customers
Data sheet
Compatibility

1.5.x - 1.7.x

Demo Front-Office

https://1.6.smart-modules.com/en/

Demo Back-Office

https://1.6.smart-modules.com/adminsm16

BO User

demo@demo.com

BO Password

demodemo

Languages

gb, fr, es, it, pt, nl, de, ru, pl, no, co, mx, cl, cz

Version

1.9.1
Video